Bathroom tiles have been reinvented and in Azulejos Mijares we offer infinite possibilities and ceramic options. In addition to the wide range of aesthetic finishes, there is a great variety of formats of all sizes, making it possible to create different compositions of pieces with different widths and lengths that can give a modern, elegant and warm look for every bathroom.
The combination of bathroom tilesThe choice of materials, as well as the colors chosen, are fundamental to decorate this room successfully, but so is the quality of the material chosen; resistance and durability are key qualities for covering the floors and walls of the bathroom, one of the rooms of greatest use and most sensitive in terms of cleanliness and hygiene.
Features bathroom tiles
The characteristics and technical properties of bathroom tiles allow them to be installed on floors, walls and walls of the bathroom.
This is a modern material with a wide variety of designs, easy maintenance and high resistance to wear and tear.
Durability is the most outstanding quality of bathroom tiles, especially thanks to their resistance to moisture, chemical agents and wear and tear.
Waterproofing is another of its main characteristics, making ceramic tiles for bathrooms the ideal choice for this room, the wettest area of the house.
Bathroom tiles have a surface finish that does not absorb water or odors, and prevents the formation of fungi and bacteria, making this option one of the most hygienic on the market.
In addition, this material is easy to clean and maintain, as it is resistant to all detergents and abrasive chemicals.
Types of ceramic tiles for bathrooms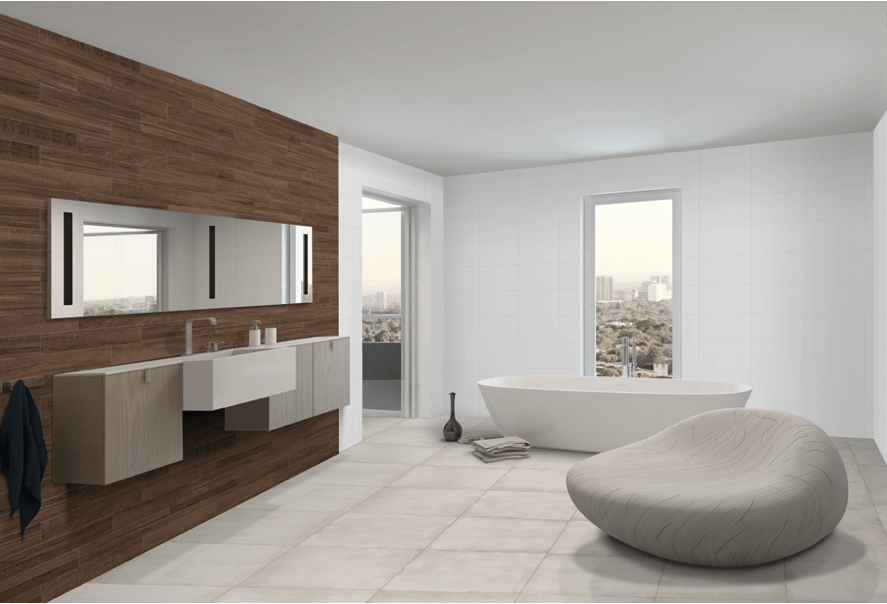 When designing the bathroom, it is very important to consider which materials can be used for floors and walls in order to make them last as long as possible.
As it is a humid space, the material par excellence is ceramic, but within the same, there are several types of finish that adapts perfectly to the needs of each home.
Bathroom tiles are an aesthetic and durable covering whose technical characteristics mentioned above are combined with the aesthetic ones. Beyond the high functionality offered by tiles, there is a wide variety of shapes, colors, textures and patterns to create infinite combinations and customize each bathroom with a lot of creativity.
Glazed stoneware is water resistant due to its low porosity, so it can be used both for flooring and cladding, especially for bathrooms.
The stoneware is easy and quick to install, in addition to having a wide variety of colors and designs.
Porcelain tile improves the technical characteristics of stoneware, and is even more resistant to abrasion, stains and sudden changes in temperature, making it ideal for spaces such as the bathroom, including the shower area.
In addition to this, it is capable of imitating natural materials such as wood, stone or marble, which gives us greater freedom to carry out the project we want.
Bathroom flooring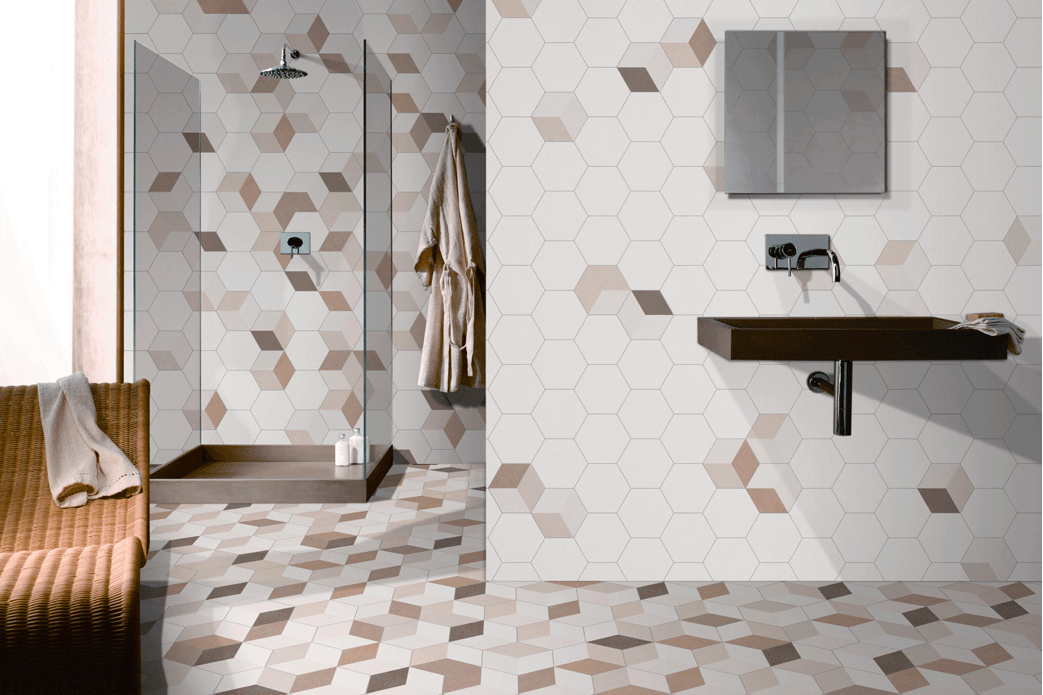 The most important thing before choosing flooring for bathrooms, is to know that you should choose a durable material, resistant to moisture and with certain anti-slip properties, since it is a space where a lot of moisture is generated, especially in the shower.
Currently, there are several decorative trends in bathroom flooring.
From the original hexagonal tiles, through the warm wood, to those of minimal essence and neutral colors.
In the Cerlat catalog, you will find the ceramic floor collection that best matches the style of your bathroom.
Bathroom wall covering
Also in bathroom cladding, ceramic remains the star material for bathroom walls.
Today, hydraulic tiles with geometric designs arranged in original ways are very popular, and with these designs, the combinations are infinite.
If you prefer a more timeless aesthetic, subway style bathroom tiles are always on trend, and glazed with a glossy finish, they will bring a touch of brightness and sophistication to your bathroom.
Another classic that never goes out of style is marble-effect porcelain tile, a favorite choice that has it all: it is a resistant material capable of lasting over time, has the sophisticated finish of different types of marble and is a predominantly timeless design that will never go out of style.
Whatever your choice, the bathroom has ceased to be the forgotten part of the house and has become one of the most important rooms in the home.
With the wide range of possibilities that Azulejos Mijares ceramics provide, it is difficult to decide on just one style!