The boom of geometric shapes in the decoration of spaces reaches its maximum representation in hexagonal tiles, as they allow this trend to be applied to the main surfaces of any design: walls and floors.
The resistance, hygiene, durability and ease of maintenance of the hexagonal ceramic are added to the original aesthetics of the hexagonal tiles, making them a perfect choice for those spaces that seek to dress their floors and walls with a high quality material that also gives uniqueness and originality to the design as a whole.
Initially used in decorative projects for hotels, restaurants and commercial premises, hexagonal tiles are bursting into the interior design of all types of homes, especially in kitchens and bathrooms.
From the most minimalist to the most extravagant style, hexagonal tiles are capable of adapting to all types of spaces thanks to their great versatility in terms of aesthetics and installation. An infinite universe of decorative possibilities opens up thanks to hexagonal tiles.
Characteristics of the
Hexagonal Tiles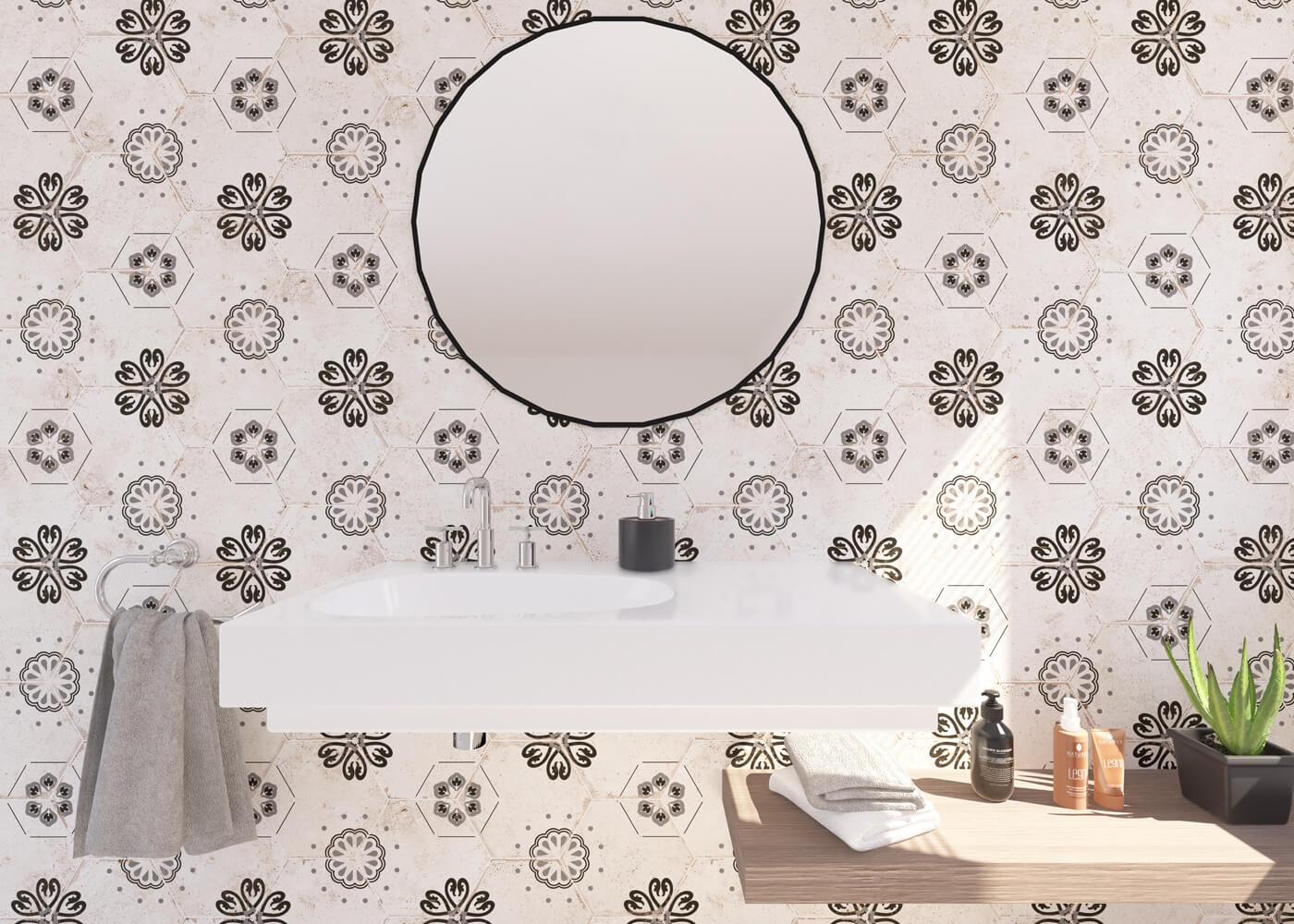 The main characteristic of hexagonal tiles, as their name suggests, is their original format: a 6-sided ceramic piece with a wide range of aesthetic possibilities.
Does the hexagonal tile give up any ceramic quality because of its format? The answer is no. Hexagonal ceramic tiles maintain the same characteristics and qualities as any other ceramic tile or flooring format.
Durable. Durability is one of its most outstanding qualities. Ceramic tiles resist impacts much better than any other type of material. In addition, it can withstand high loads.
Resistant. Hexagonal tiles withstand bumps and scratches, as well as moisture, making them perfect for areas such as the kitchen or bathroom.
Easy to maintain. The maintenance of hexagonal tiles is simple, fast, and it is a material that resists detergents and abrasive chemicals.
Hygienic. Its easy maintenance and resistance to humidity make ceramic tiles one of the most hygienic and safe materials on the market.
Advantages of the
Hexagonal Ceramics
The wide range of creative possibilities that the hexagonal pavement offers us, together with the qualities of ceramics, are the main advantages of this type of floor and wall tiles.
Where does the creativity of hexagonal tiles lie?
In its format.
In addition to the great variety of colors and decorations that ceramic technology allows us to create, the hexagonal format offers a plus of decorative creativity thanks to the versatility it offers in its installation. The combinations are endless. Here are some ideas:
Hexagonal tile installation ideas
Create a geometric design that is repeated throughout the room organized by matching colors; either to create contrast, or – as we see in this image – to be enriched by the use of the same color palette.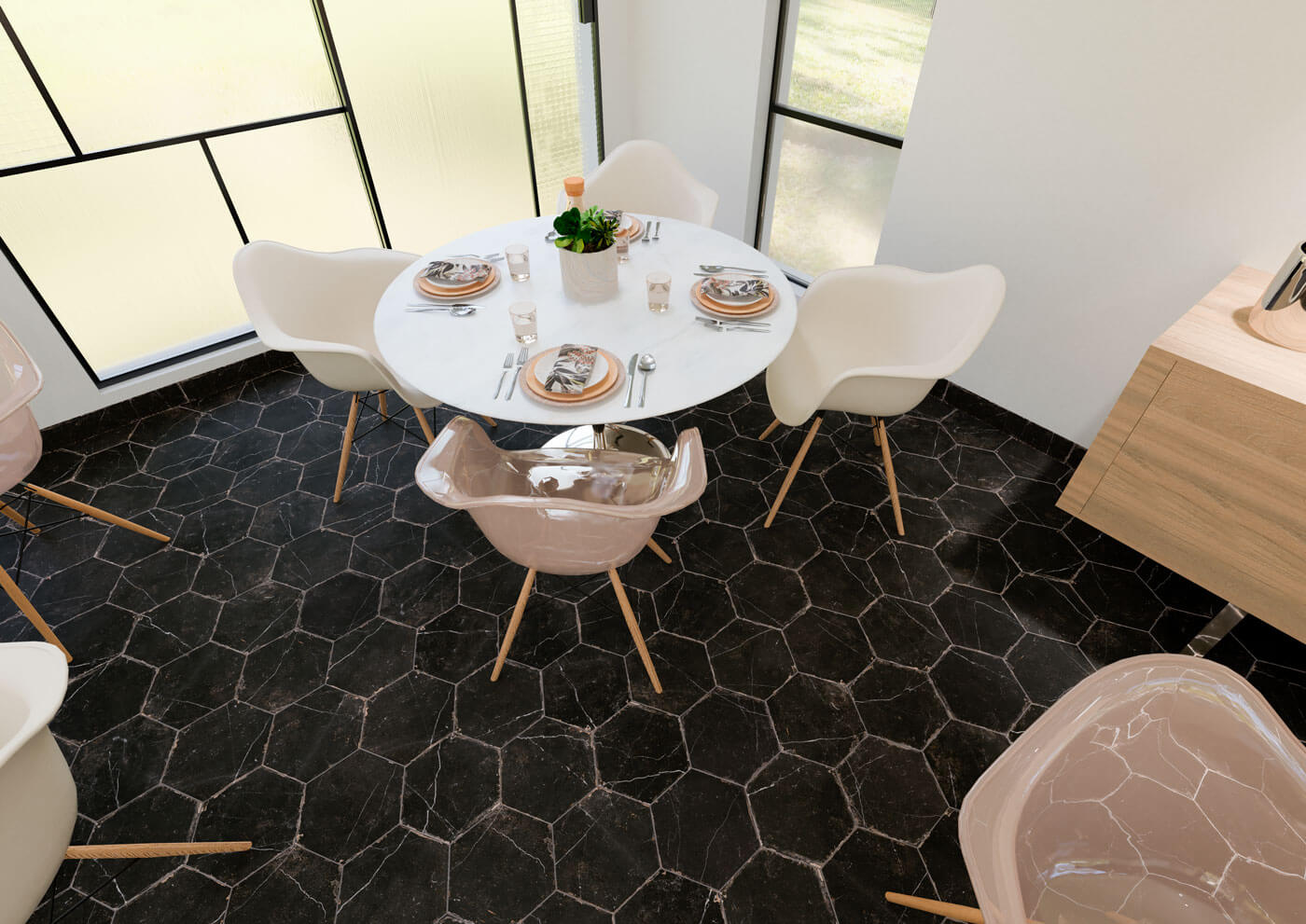 Compostela Series. 22.5 X 25.9 cm
Personalized designs in their purest form. Anything goes here! One of the advantages of hexagonal tiles is that the seemingly random placement of the pieces is a trend. A very versatile option that allows you to combine colors, decorations, textures and even materials.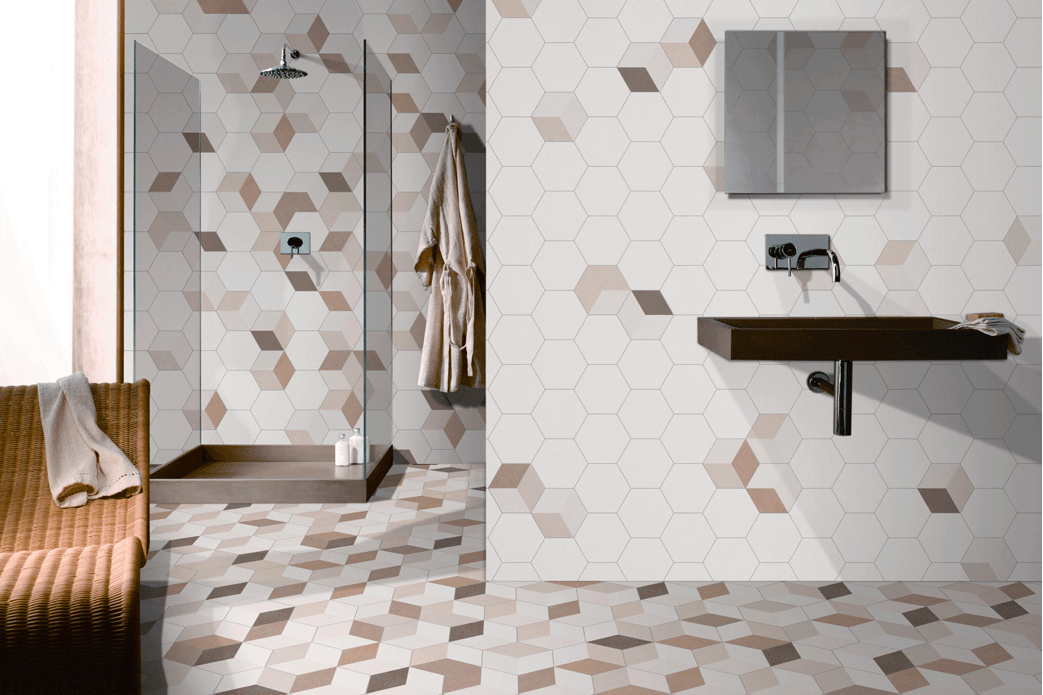 Odessa series. 22.5 X 25.9 cm
The very format of the hexagonal tiles allows, in a visual way, to separate functional areas within the same space. For this, it is convenient to combine two types of hexagonal tiles: a neutral model that will act as a base, with a model of greater visual charge, such as a more striking shade, a hexagonal tile of hydraulic inspiration or a tile with a texture that stands out.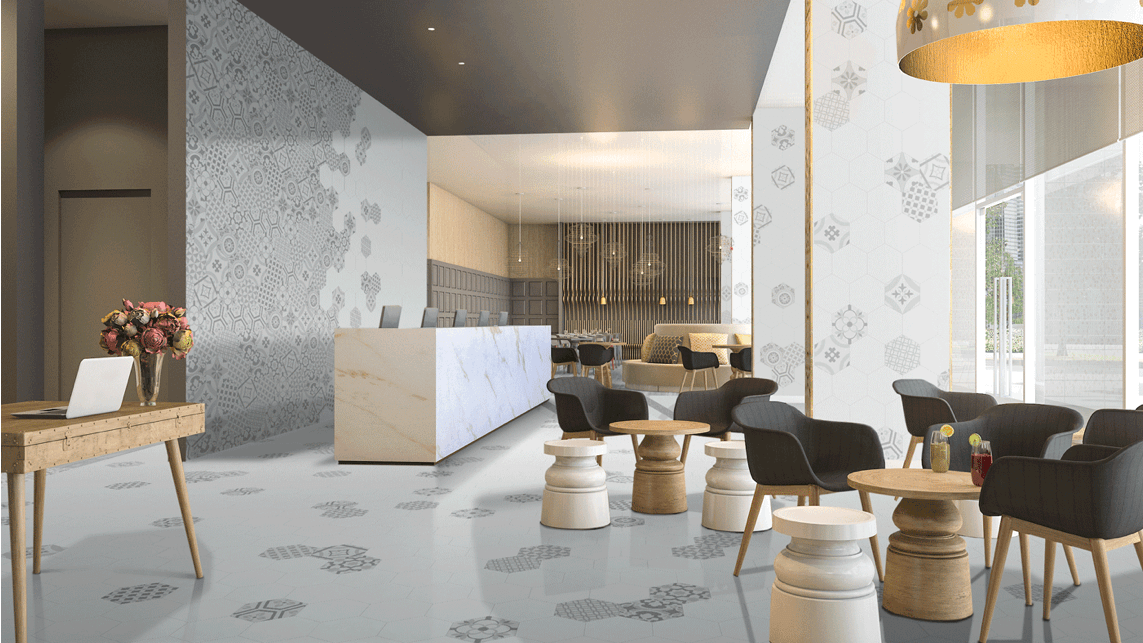 Split Series. 22.5 X 25.9 cm
Hexagonal Tiles Bathroom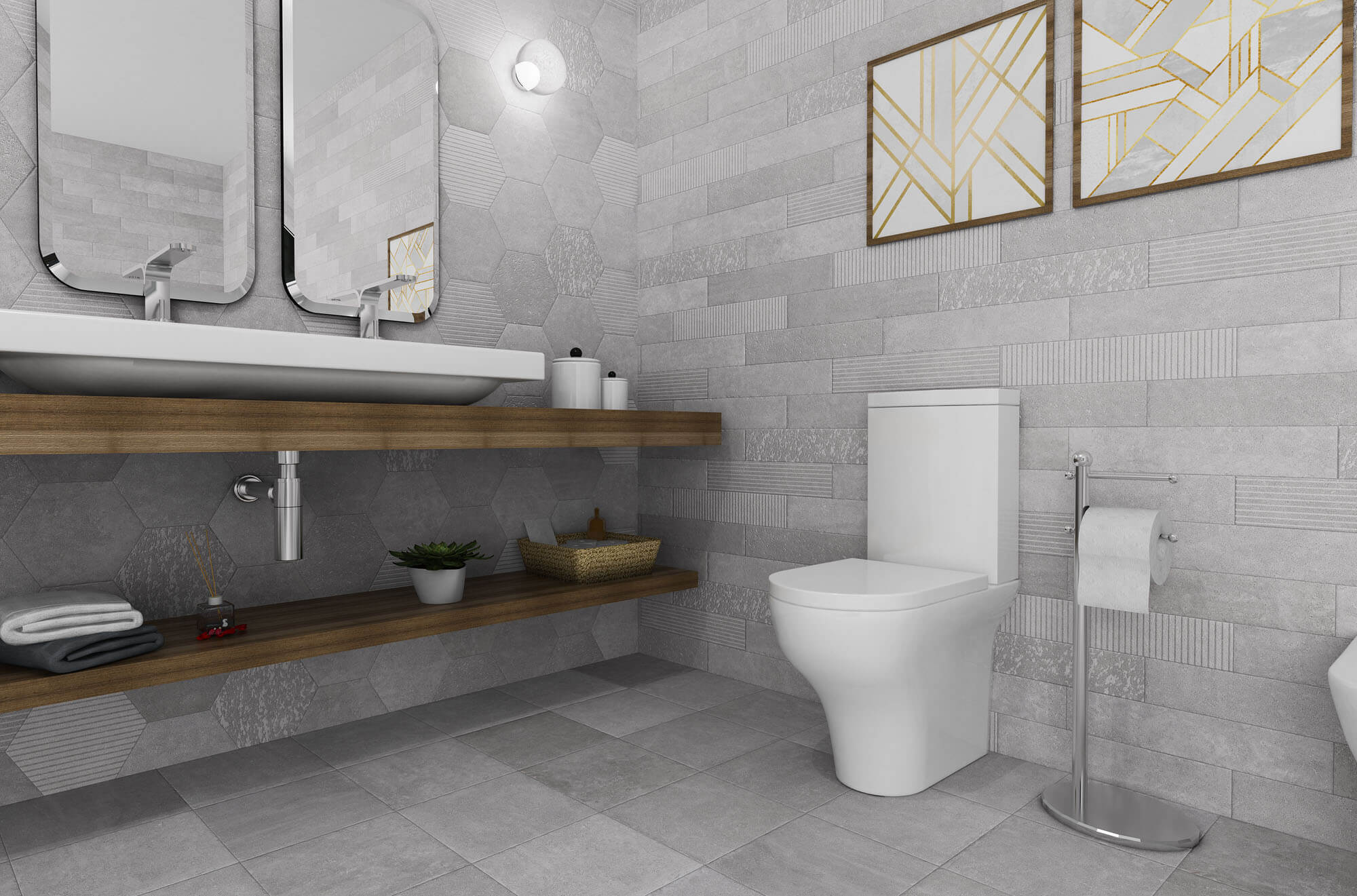 One of the best options to add aesthetics, creativity and originality are hexagonal bathroom tiles.
They are highly aesthetic pieces that, thanks to their decorations, colors and versatility of installation, allow the creation of unique spaces without sacrificing the quality of a material suitable for the bathroom, such as ceramics.
Opt for a neutral-colored design if the bathroom is small, and go for a bolder design if the space is larger.
Hexagonal tiles
for Kitchen
What is the biggest trend in decorating with hexagonal kitchen tiles? Use this original format to dress the backsplash area, also known as the front wall of the kitchen and sink area.
Among all the decorative possibilities, the white hexagonal kitchen tile remains the favorite choice, as it brings brightness and visually expands the space.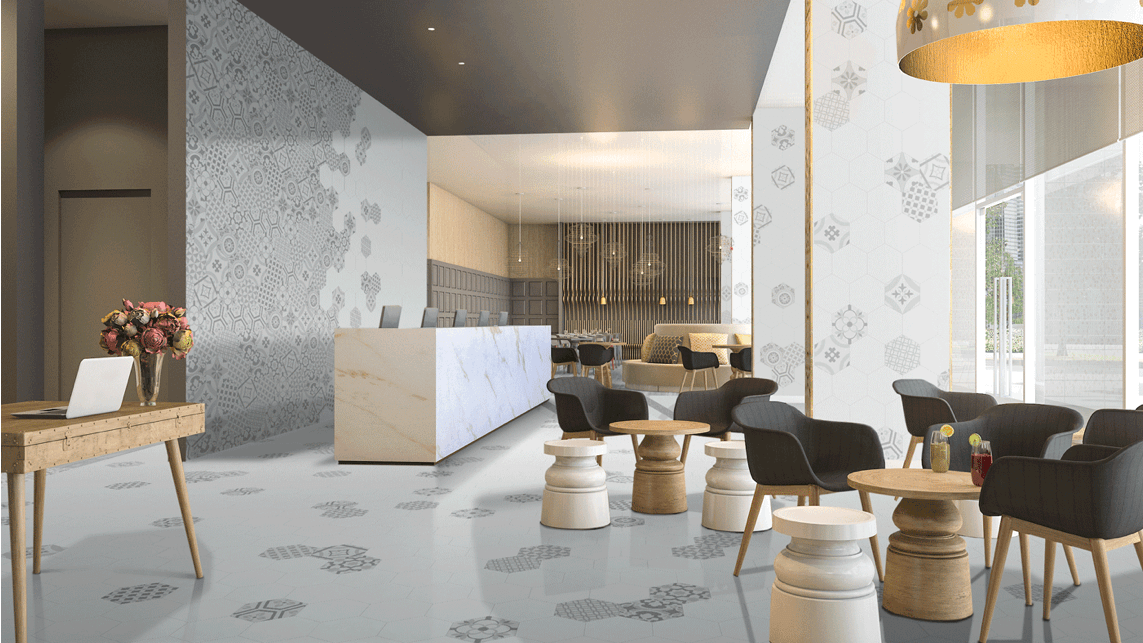 Liege Series 22,5 X 25,9 cm
Hexagonal floor:
the best choice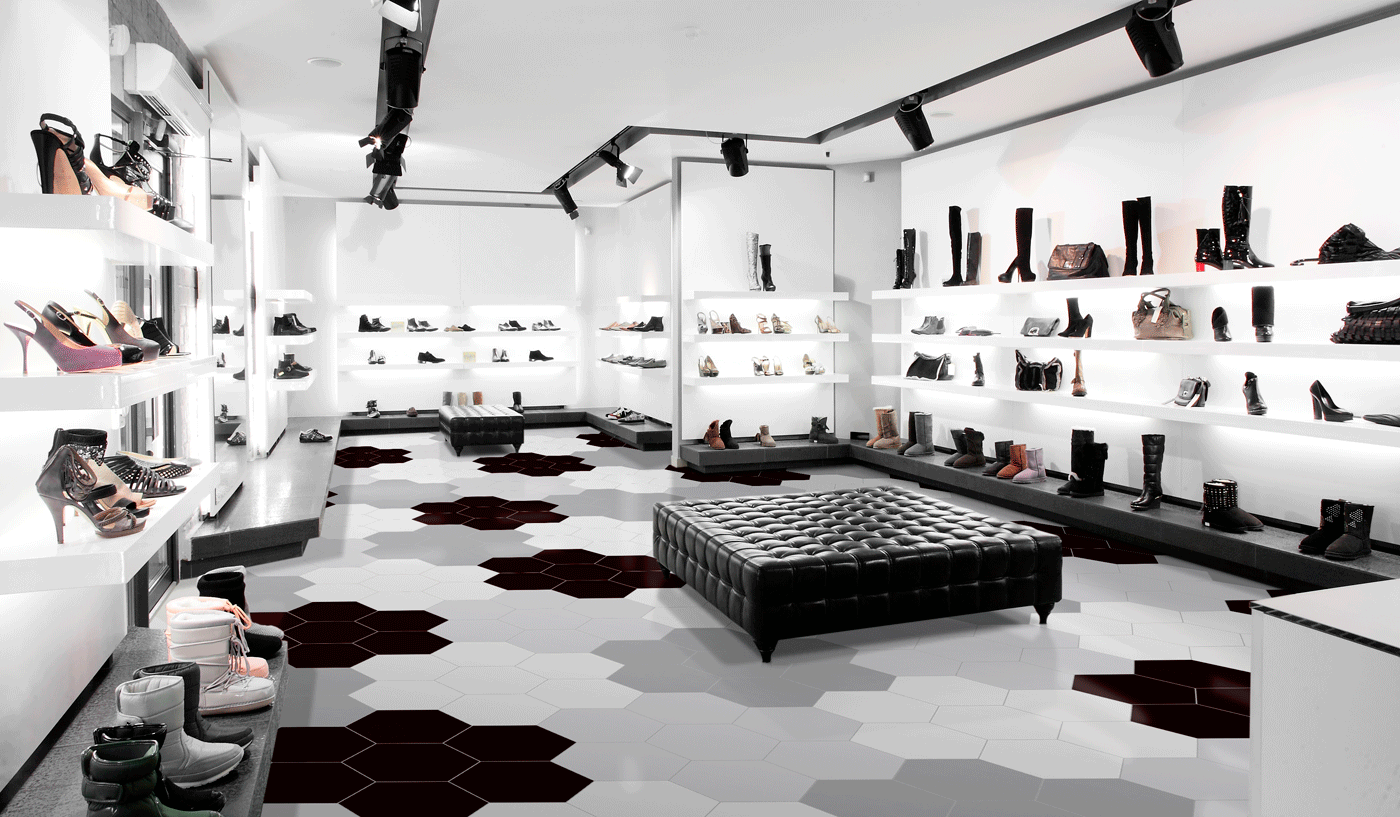 Why should you choose hexagonal flooring for your kitchen, bathroom, or any other room in your home? The answer is that it is the perfect mix of originality, design and quality.
The wide variety of models and its six-sided format expand the decorative possibilities, allowing you to create unique and personalized spaces full of character and style.