Among the infinite design possibilities offered by wood-effect tiles, ceramic is undoubtedly one of the most sought-after options, both for the aesthetic value it provides and for its reliability, durability and resistance.
Wood effect ceramics capture the essence of nature to create unique spaces, both indoors and outdoors. Its versatility in design is admirable, adapting to all decorative styles. This, together with the technical qualities provided by the ceramic material, has multiplied its demand in recent years.
In Azulejos Mijares we have different collections of wood effect tiles designed to suit all kinds of styles, so you can choose the type of wood that best suits you as well as its practical application, as they can be installed as floor, wall and even exterior walls.
Features
wood effect tiles
Possessing all the advantages of ceramics, wood effect ceramics is a highly chameleon-like material that can be adapted to all types of spaces. Wood effect tiles have a number of advantages that are worth knowing about.
Compared to natural wood, wood style tile is much easier to maintain, as it does not require specific treatments as natural wood does.
In addition, it is much easier to clean, without the need to use special cleaning products because its appearance will not be altered over time.
In addition, wood effect tiles have a minimal water absorption percentage, so they can be exposed to humid areas of the home such as bathrooms and kitchens, but can also be placed in outdoor areas such as patios or terraces.
Another favorable point is that, given its high resistance and hardness as a material, its use is suitable for areas of high traffic and daily use such as businesses and public spaces.
Some materials, including natural wood, deteriorate over time and may even mildew if subjected to inclement weather or external aggressions. Wood effect ceramics, on the other hand, remain unalterable over time and do not deteriorate.
Soil
wood effect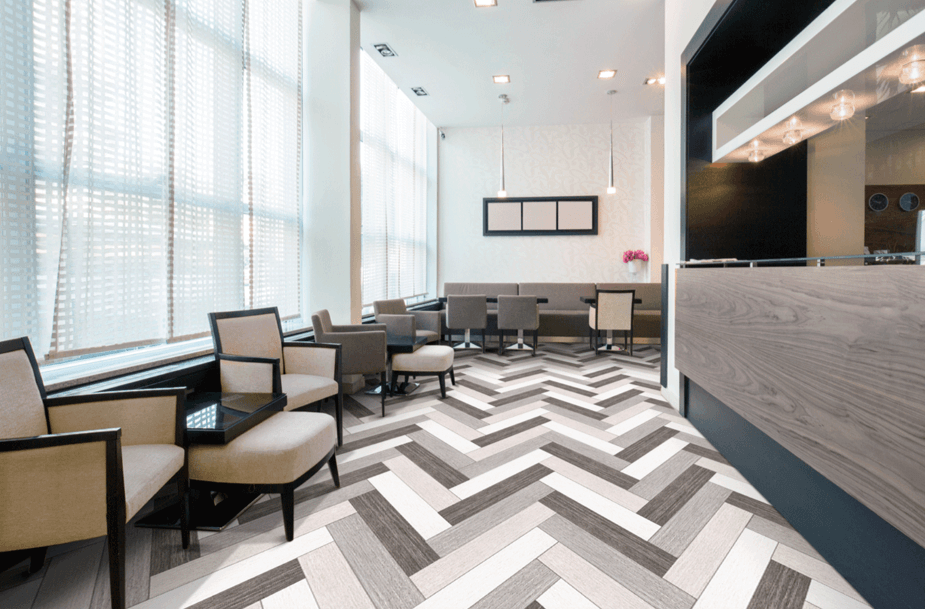 Given all its many advantages, wood effect ceramic floors are one of the favorite materials in interior design.
More resistant and durable than parquet or natural wood, ceramic wood flooring is capable of faithfully reproducing all the nuances of nature, grains, shades, textures and roughness with perfect accuracy.
So it is possible to combine natural beauty with the practicality of ceramic material.
When it comes to tiling a wood effect floor, we can opt for various installation systems inspired by natural wood.
The most common is to use a locked installation of the tiles, always bearing in mind that this locking should not be greater than one third of the piece.
If the tiles are rectangular in shape, they can also be installed parallel, side by side, to give directionality to the surface.
And finally, another option is the herringbone installation, i.e., placing the pieces in a zig-zag pattern; this generates movement on the surfaces.
Although there are more systems, these are the most common, and choosing the right one will depend on individual tastes and the needs and characteristics of the project.
From Cerlat we offer different collections of porcelain flooring with wood effect inspired by this noble material, full of detail and realistic finishes.
Wood-like bathroom panelling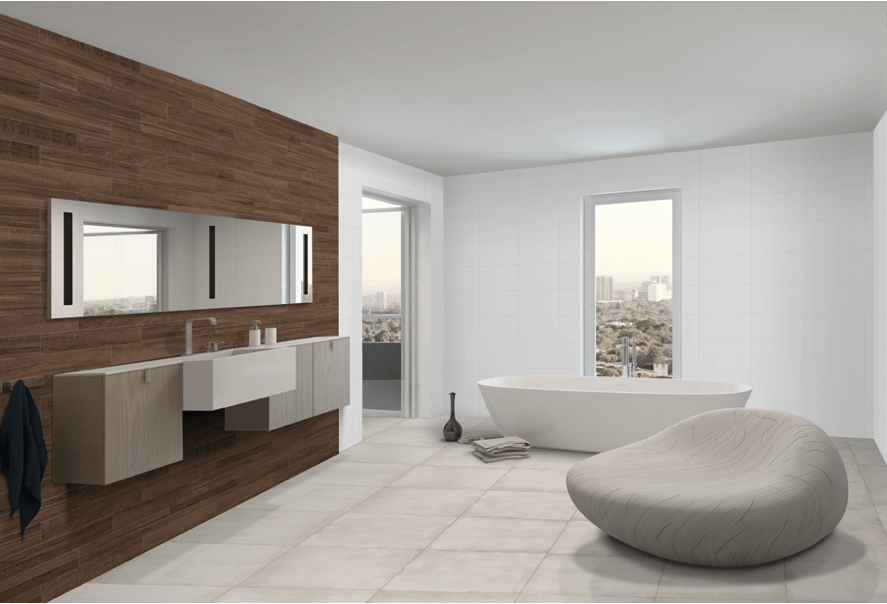 The wood-effect bathroom wall covering is the perfect solution to cover the walls of the bathroom if they are, in fact, wood-effect tiles.
The bathroom is one of the most important areas of the house, and one that requires a higher level of hygiene and maintenance due to its daily use and exposure to humidity.
Therefore, choosing the right material to dress this area of the home is essential to facilitate the comfort and functionality of those who live in it.
The wood effect tile thus becomes a great ally of this living space.
The warmth that ceramic wood brings to residential and commercial projects is undeniable, and allows us to create small oases of relaxation in the bathroom thanks to that natural touch so desired.
The textures and colors of our ceramic series faithfully reproduce natural wood, creating beautiful surfaces that perfectly match all decorative styles.
Creating a Nordic, minimalist or rustic style bathroom, for example, is very simple if we dress the walls with our wood effect ceramic series.
Exterior wood-like siding
For all the above mentioned reasons, it is a fact that choosing wood-like exterior cladding for exterior areas is a highly recommended option given its high technical performance.
Among them, we highlight itsinalterability to weather and temperaturechanges due to its non-porosity.
This also allows the material to be frost and moisture resistant, which is not the case with natural wood.
In the same vein, the wood effect coating is resistant to sunlight, which does not change its appearance over time or fade.
These technical advantages over the natural material make it the best choice for all types of exterior facades, such as the patio or terrace of a house.