The choice of tiles for swimming pools is of vital importance to be able to enjoy this space with maximum safety and comfort.
The possibilities are endless, but, without a doubt, the most suitable material for this type of outdoor spaces is ceramic and, specifically, porcelain tile, the most chosen option by architects, designers, interior design studios and homeowners.
This is because pool decking combines all the features required for this demanding outdoor space.
Swimming Pool Tiles Characteristics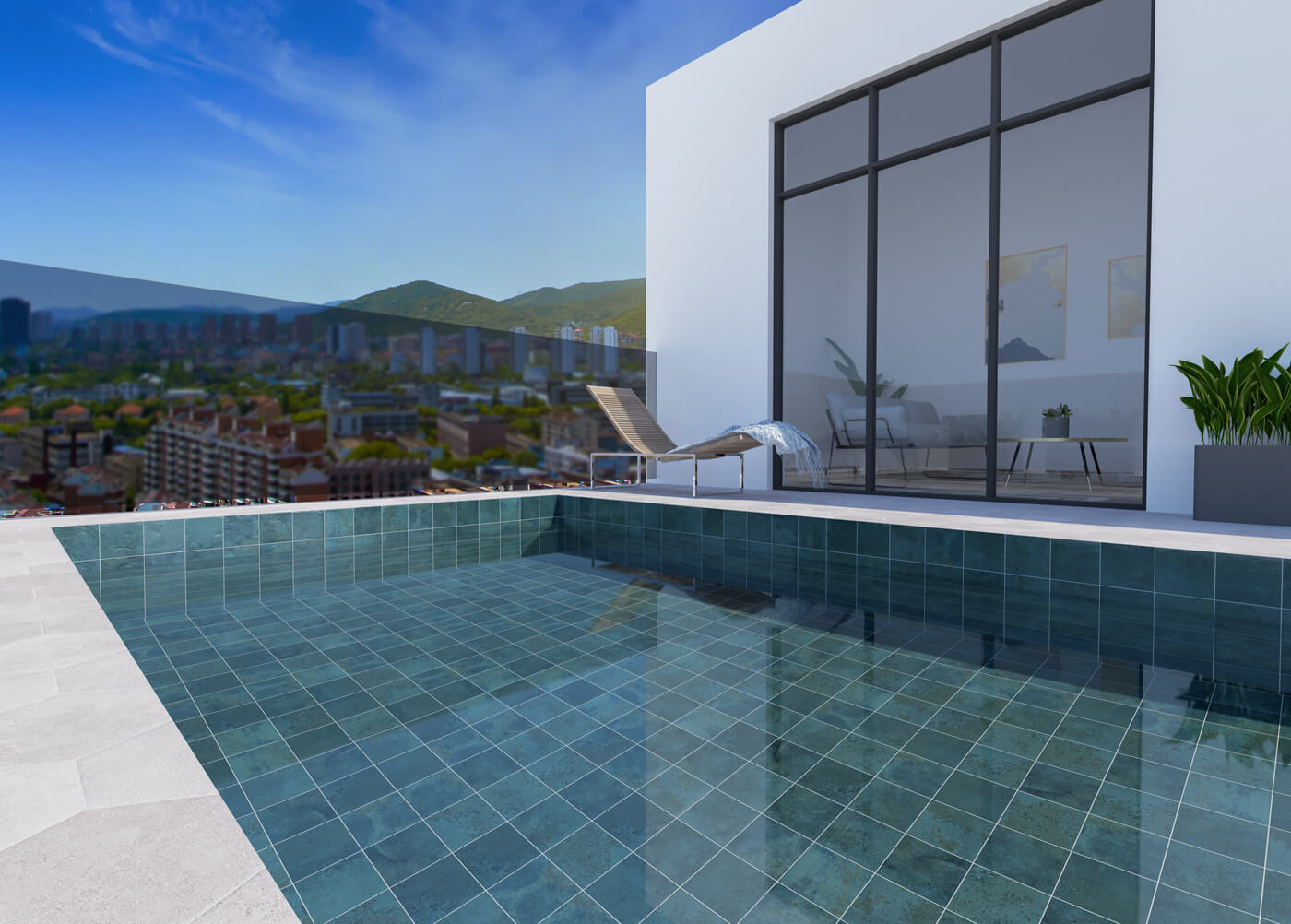 Why choose ceramic tile for pool liner? What are the advantages of pool tiles?
For a swimming pool renovation project or the construction of a new one to be successful, it is necessary to have a good swimming pool floor. How to choose the best pool tile?
Taking into account 3 key factors: safety, quality and design.
One of the most important aspects to take into account when choosing swimming pool floorsis whether or not they are slip-resistant, in addition to their degree of slip-resistance. Opt for the highest level of non-slip surface to ensure safety and prevent possible slips and falls, as this type of pool floor is perfect for wet, damp and dusty areas.
Choose tiles for swimming pools made of glazed porcelain tiles with anti-slip finish C-3.
Resistant to sun, ultraviolet rays, temperature changes, weather, dust, chlorine and other aggressive agents, swimming pool tiles, thanks to technological innovation, have become one of the most resistant and durable outdoor flooring materials.
In addition, ceramic tiles are highly hygienic and easy to clean, as they do not require extensive maintenance and have very low porosity.
Do not renounce to design in favor of quality with the tiles for swimming pools of your decorative project, and is that ceramics, in addition to having high technical performance, offers great versatility in terms of aesthetics.
Pool Flooring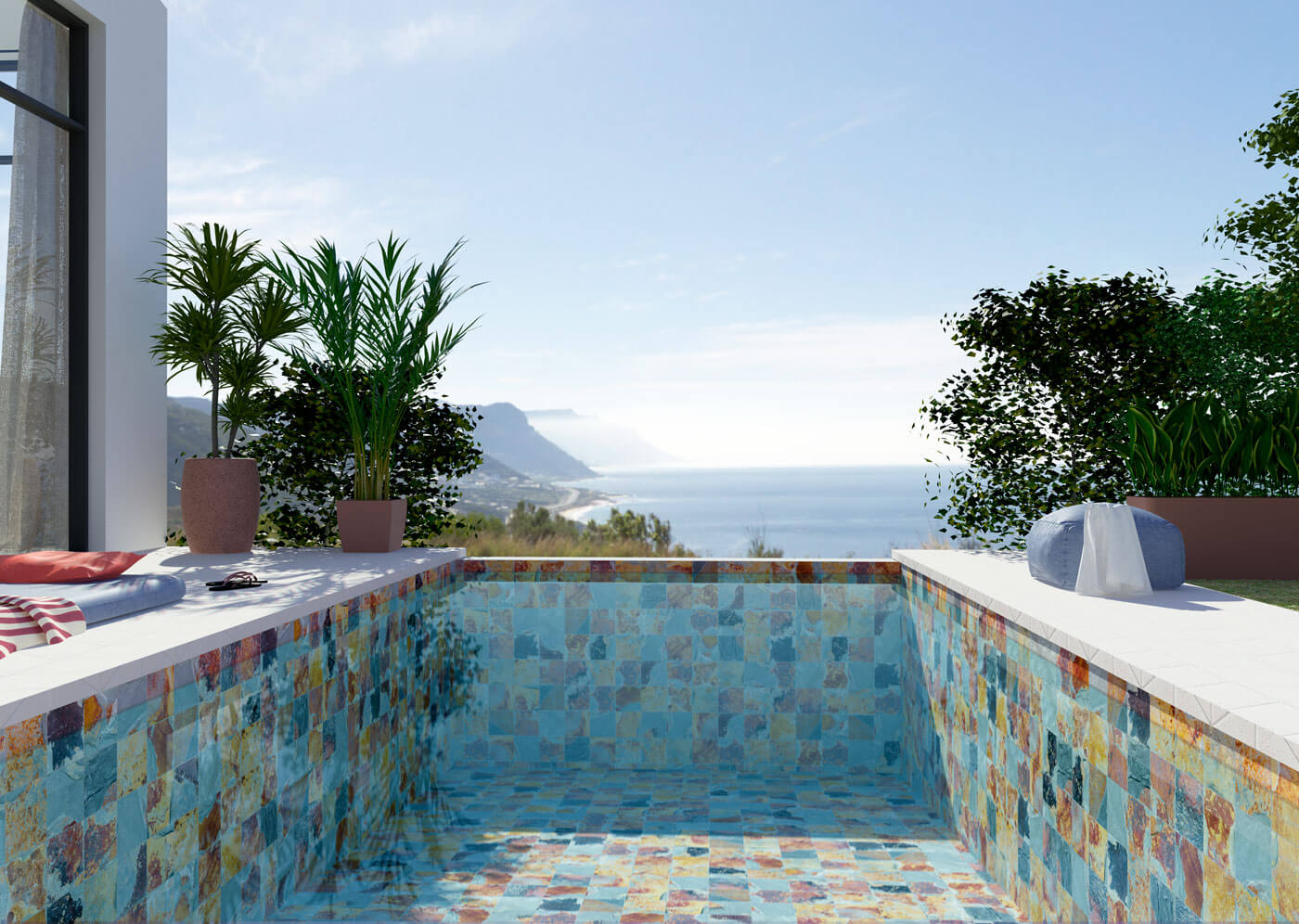 One of the trends that lasts over time when it comes to decorating the outdoor pool floor is the natural style, in which the Mediterranean design takes center stage: a cozy, warm and traditional space.
Tiles for swimming pools in Mediterranean style and inspired by natural stone in sand, earth, ash, white and even gray colors, are the most demanded option along with non-slip porcelain tiles in clay or wood style.
They all have in common the high performance of the ceramic, which together with the neutral aesthetics offered by this natural style, fits perfectly with the blue of the sky and the water of the pool.
Swimming Pool Coating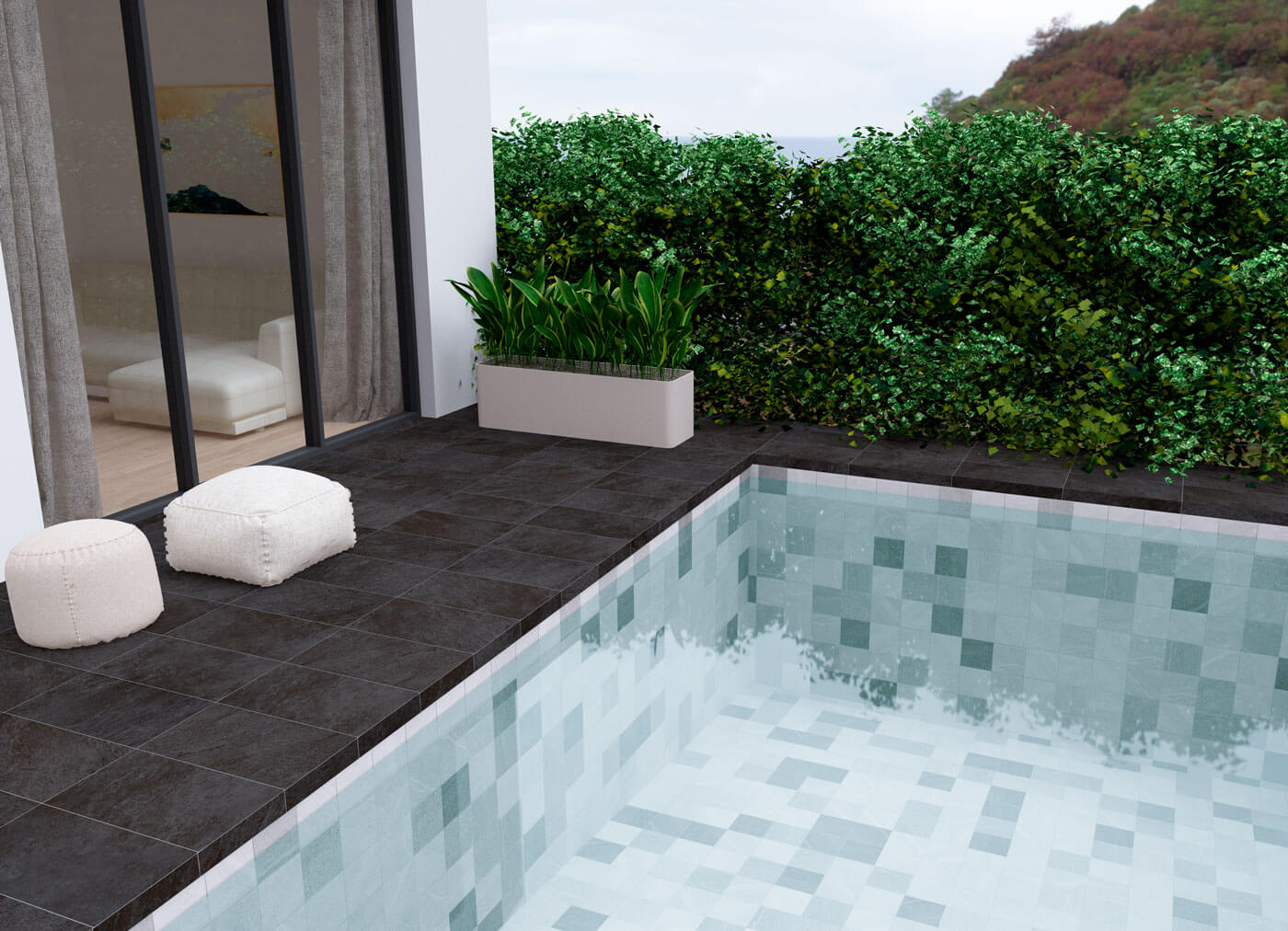 When a decorative project is about swimming pool tiling, it is necessary to broaden the vision and think about the design of the entire surrounding space in order to choose the most suitable ceramic tile for the floor.
How is the terrace where the pool is located? How big is the terrace? Does it have several heights? Do you have a relaxation area with armchairs? Is there a dining area? Do you have a barbecue area? Does it connect to an interior living space through a large window?
Answering all these questions will guide you in choosing the most appropriate esthetics for this area. However, a key and common requirement in outdoor flooring for this type of pool project is that it must be a material suitable for outdoors and with a high anti-slip level (C-3).
If your terrace has several areas, you can choose different outdoor ceramic floors and use them to cover the different spaces in order to achieve a visual separation. Opt for models that fit together, but generate contrast.
You can also connect the outdoor pool area with an indoor area that opens through sliding doors. In this case, we recommend that the pool floor has a C-3 anti-slip finish, while the floor chosen to cover the interior terrace has a C-2 anti-slip level.
There are many decorative possibilities, as many as there are spaces. All you have to do is find the style that best suits your style and choose the right material to carry out the project.
How to clean the Pool Tiles?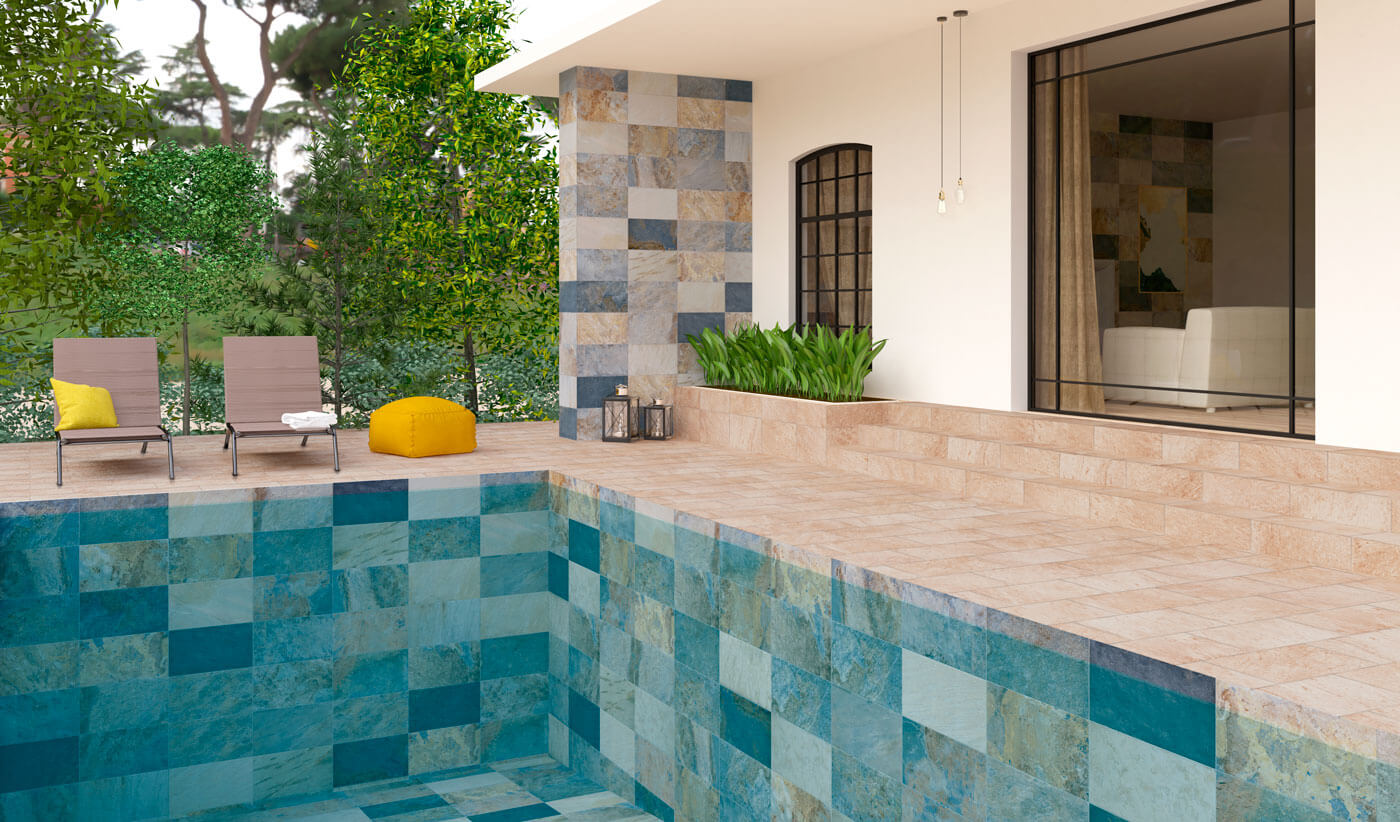 Opting for ceramic pool tiles, and especially for glazed porcelain tiles with C-3 anti-slip finish, is to choose a hygienic and resistant solution to cover the floor of the terrace with swimming pool.
The low porosity of this type of ceramic tile makes it a highly resistant material to stains and humidity; indispensable qualities for outdoor spaces such as terraces with swimming pools.
In addition, these ceramic tiles are very easy to maintain, as they will remain as the first day with a simple cleaning with soap and water.
How to coat a swimming pool?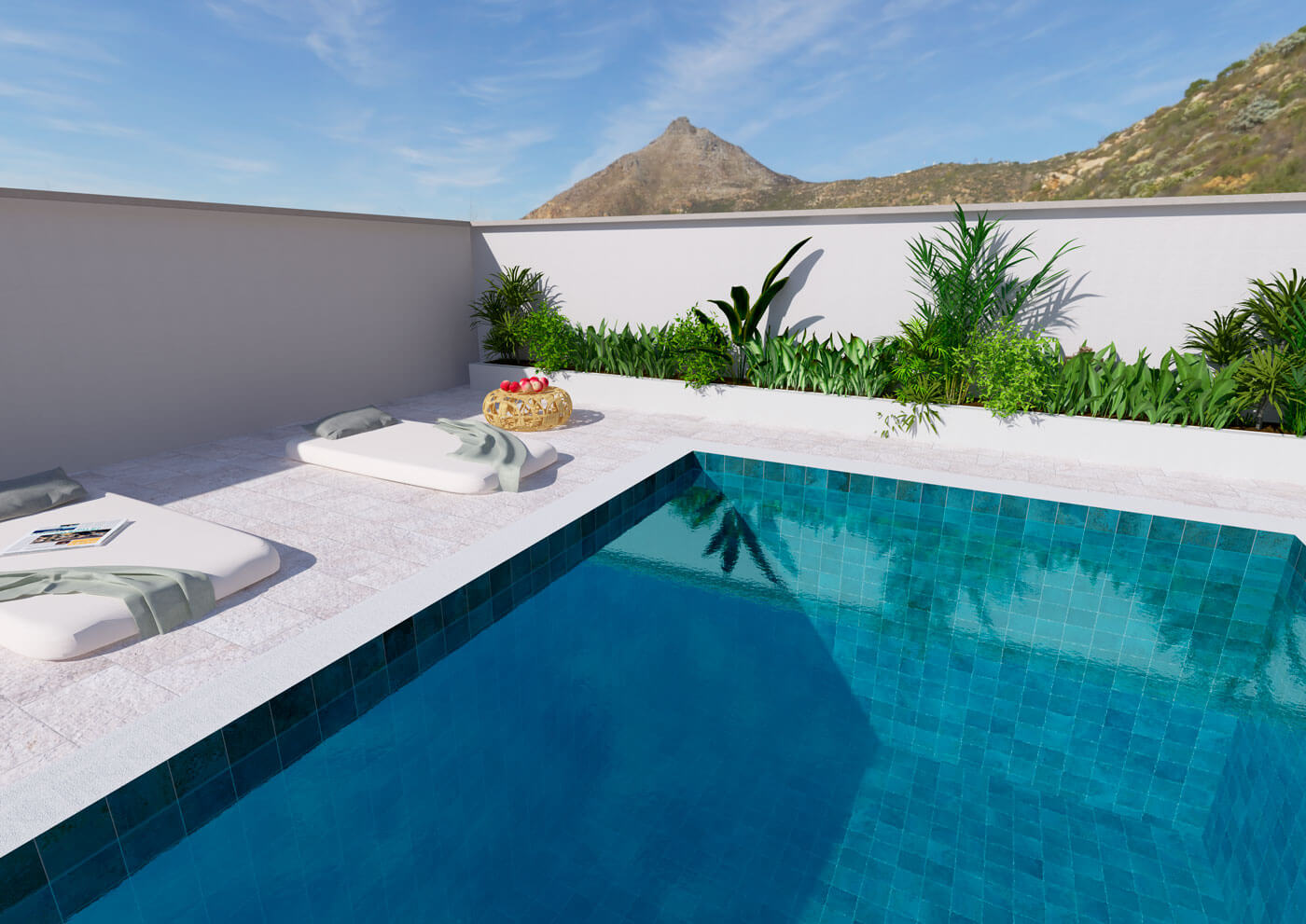 Increased user interest in outdoor areas in homes has led to the revaluation of spaces such as terraces, balconies and gardens.
The design of these outdoor areas become more important in the decorative project, and therefore the choice of materials is as important as that of other rooms.
In addition to all the high performance of ceramics, in terms of resistance, durability, anti-slip and ease of maintenance; the tiles for swimming pools have a wide variety of formats that allow the customization of the different spaces.
For an optimum result, it is necessary to use special technical parts that are adapted to the pool structure and that also comply with the corresponding international safety regulations.